Environmental Marking of Electronic Products
Whether you are in charge of compliance or are just curious about the various logos at the back of your electrical or electronic products, this article is for you.
Here, we will present you with some of the most common labels. We will also demystify what obligations hide behind these marks.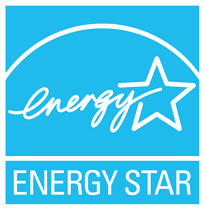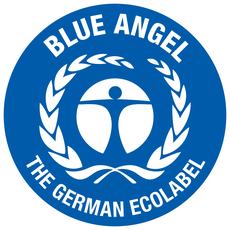 Voluntary Ecolabels
Some products may have been certified against voluntary standards, such as the Energy Star on energy efficiency or the German Blue Angel ecolabel, which covers various environmental standards, including VOC emissions.
In this article, we will focus on the mandatory and legally binding environmental marking of electronic devices.
CE Marking
The CE marking in the European Union (EU) covers several requirements such as electrical safety... and RoHS, on the restriction of certain hazardous substances of electrical or electronic equipment (EEE).
Since 2013, the CE marking replaces many non-official RoHS labels. Importantly: according to the Blue Guide on CE marking, EEE should no longer bear RoHS labels. Indeed, RoHS compliant signs might mislead the customer about the CE marking scope.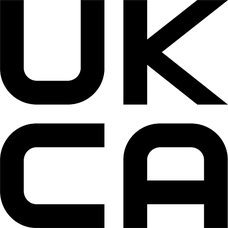 China RoHS EFUP
Like the European Union, the Chinese RoHS requirements include a specific marking: the Environmental Friendly Use Period (EFUP) label.
This EFUP label applies if none of the restricted substances are present above regular thresholds.
A number will appear in the center of the EFUP label if at least one restricted substance is present above the thresholds. The number represents the number of years of a product's chemical stability.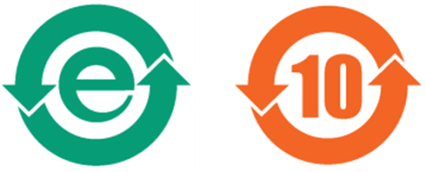 The manufacturing date should also be mentioned on the product to determine the beginning of the EFUP.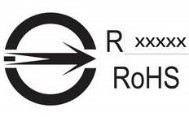 Taiwan RoHS
Taiwan RoHS is a hybrid between the EU and China RoHS. Additionally, an inspection mark is mandatory, which is not the case with the European and Chinese self-declarations.
Lead-Free
Many companies used to show lead-Free labels. Some still do. The Pb-free logo was current before the inception of RoHS. It only targeted lead content.
Cadmium-Free
'Cadmium inside' of Cadium 'Cd-free' labels apply to various electronic displays sold in the European Union, such as LCDs.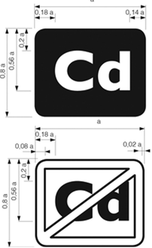 California Prop. 65
Consumer products sold in California must have a safe harbor warning if they contain any of the substances known to the State of California to cause cancer, birth defects, or other reproductive harm. It is a requirement of the California Proposition 65.
A long or short-form label can also apply under certain conditions.
Medical Devices - MDR Labels
Per the Annex I of the European Medical Devices Regulation (MDR) 2017/745, in-scope products must have a label listing any of these substances present above 0.1% w/w:
carcinogenic, mutagenic, or toxic to reproduction (CMR); or

with endocrine-disrupting properties.
Certain conditions apply.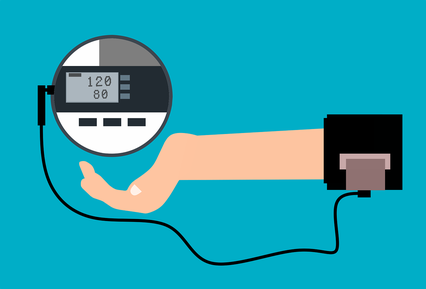 WEEE Logo
The EU Waste Electrical and Electronic Equipment WEEE Directive also includes a marking provision. It is the so-called cross-out wheely symbol. This label notifies customers that they should not trash or discard their electrical and electronic devices via the general recycling channel.
Instead, they must use dedicated and approved recycling facilities for e-waste.
Energy Efficiency Marking
Most product environmental compliance labels applying to electronic products restrict substances. Nevertheless, another category of marking targets ecodesign (circular economy) and energy consumption.
Such requirements can be either mandatory or voluntary. They mainly apply to home appliances, but also some B2B products, like commercial refrigerators. Energy efficiency marks may also require the approval of third parties via endorsement labels.
Minimum Energy Performance Standards
Labels about the minimum energy performance of in-scope products may also apply. For example, these countries have established both comparative and minimum energy performance rules: 
Argentina, Australia, Brazil, Canada, Chile, China, Costa Rica, Egypt, El Salvador, European Union, India, Indonesia, Israel, Japan, Jordan, Malaysia, Mexico, New Zealand, Nicaragua, Nigeria, Pakistan, Peru, Qatar, Russia, Saudi Arabia, Singapore, South Africa, South Korea, Switzerland, Thailand, Turkey, Uganda, United Kingdom, Ukraine, United States, Vietnam, and Taiwan.
Energy Efficiency Levels of External Power Supplies
External power supply (EPS) units require specific minimum energy performance standards per the International Efficiency Marking Protocol. A Latin number indicates the energy level. As a result, an EPS with the energy efficiency of level VI is more efficient than level V, and so on. 

When selling to Canada, the EU, or the USA, manufacturers must assess and mark their products with approved minimum energy efficiency levels.